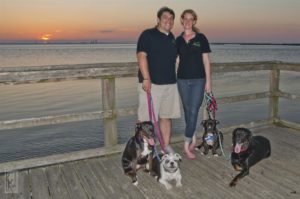 My Happy Dog 123 is made up of two owners, Viviane and Jason, who made their passion their profession.
Our 4 dogs, Truman, Oliver, Maya and Otis, are part of our family. When one of our sweet pups, Truman, started becoming sick constantly, we began to worry.  He had sores, was lethargic, itching and licking incessantly. We couldn't afford the costly vet bills to determine what, if anything, he was allergic to. Frustrated, and without definitive answers, we began to seek our own solutions. We came to believe, through some trial and error, that the culprit was his food. By spring of 2012 we started making our own food and healthy treats for Truman. It worked wonders. We continued the baking using fresh and quality ingredients.
In October 2012 we decided to take our treats to the local Farmers market. There we started talking and listening to many dog owners. We heard many stories about their furry family members ailments. With that we realized that our first treats were healthy but still were made with grain products. As we continued to hear the same stories from pet owners we slowly started changing the makeup of our treats. In 2013, we went from using Wheat, Corn and Soy to "Gluten Free" and only were using Rice Flour and Oats.
By Spring 2014 we went completely Grain Free. The drastic, and much needed, move to Grain Free really changed our fortune. We began regularly selling out at markets, of course in company of our dog Truman, who began to take on the role of mascot and official taste tester.
In the fall of 2014 our treats were available for the first time in select local stores around Mobile, AL. When, in 2015, Whole Foods opened its doors in Mobile and agreed to offer our products on their shelves, it emboldened us to think bigger. Since then, we have been building our brand and polishing our business acumen. We now are in stores in 5 states offering our grain free pet products. We made the unthinkable leap of quitting our day jobs to pursue the My Happy Dog brand full time. We are planning to make 2017 our most successful year yet as we try to take our brand onto the national stage. And, most importantly, spread our passion of feeding our beloved pets the best possible diet we can, on an affordable budget.